Gone are the days when garages were used only as a shelter for cars. Most people don't even store their vehicles in their garage these days, choosing instead to use them to store other items.
The transformations in the use of garages from mere car storage space to a host of other uses mean that each garage has to be upgraded to best serve its new functions.
One easy way to upgrade a garage today is to install PVC garage wall panels, but things don't end there. You must choose the best PVC or plastic wall panels to avoid losses. So, which ones should you choose?
What Are the Best PVC Wall Panels to Use in a Garage?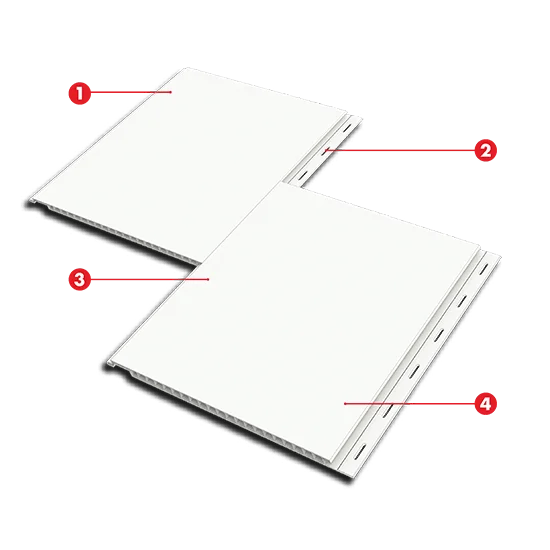 Quickliner™ PVC wall panels are the best you can use in your garage if you are all-in for optimum wall protection, durable PVC wall lining, hygiene, and aestheticism.
Our Quickliner™ plastic PVC wall panel products are extruded, food-grade polyvinyl chloride (PVC) panels with interlocking joints and a glossy finish, two unique attributes that help with aesthetics and ease of maintenance.
Features of Quickliner PVC Wall Panel Products
Below are features of our Quickliner™ insulated PVC wall panels:
Easy installation
Low maintenance and easy-to-clean
Resistant to dirt, corrosive chemicals, moisture, and heat
Fire-rated (Class A)
Approved by the CFIA as food-grade PVC wall panels
Benefits of Quickliner PVC Wall Panels
Quickliner™ from Structural Panels Inc. provides many benefits when installed in garages. Below are some PVC wall panels benefits to count on.
Versatility
Although you might be thinking only of investing in easy-to-clean wall coverings, it's helpful to know that our PVC panels are equally ideal for your ceiling.
Compatibility with Different Surfaces
Installers can use Quickliner plastic wall panels on different surfaces, depending on the topmost surface of your garage walls.
The surfaces PVC panels can cover include painted drywall, concrete, wood panels, brick, tiles, plaster, cement board, and plywood.
Hiding Wall Imperfections
Most other wall covering materials require installers to get a smooth finish to make it easy for the materials to cover the wall without damage.
With Quickliner wall panels, you don't have to prepare the wall surface to make it ready to receive the panels. There's no harm in preparing the wall, but if you are pressed for time, you can leave it as it is.
What Makes Quickliner PVC Wall Panels Ideal for a Garage?
Are PVC wall panels safe? Are they waterproof? And what makes them suitable to use in a garage?
Fire Resistance
Octaform Quickliner PVC wall panels are Class A fire-rated following ASTM E 84 or UL 723 safety standards, which may seem trivial for a PVC panel for a garage. Still, it can save installers thousands of dollars in fire-related issues.
As mentioned, people no longer use garages for car storage only. They use them like they would use a storage shed or garden shed: as a storage space for everything from wood products to plastics to electrical equipment and flammable liquids or gases.
All these items pose fire risks of varying degrees, making it necessary to install fire-resistant wall panels like Quickliner Octaform.
Besides, some people now use garages for different cooking operations like barbequing. The risks of fires erupting in such a garage are high, mainly because you are cooking items rich in animal fat.
Moreover, you can use your garage as a workshop for activities like woodwork and painting without worrying that the panels will catch fire or get damaged.
Water Resistance
Quickliner PVC wall panels are highly resistant to water. The interlocking panels won't allow water or moisture to pass through and onto the surface beneath.
A waterproof garage wall panel means the wall behind the panels won't be damaged by water from floods, rain, damaged pipes, or routine cleaning operations in the garage.
High Hygiene Levels
Whether or not you'll be cooking in the garage, you'll want a wall panel that makes it easy for you to maintain high levels of hygiene.
Our plastic wall panels are easy to clean since the gloss finish ensures that dirt, grit, and splashes do not stick to the surface of the panels. Cleaning is easy, using gentle dish soap, water, and a soft cloth.
Surface Protection
A wall panel offers optimum protection for the wall beneath it. They protect the wall from corrosion by chemicals, mildew, mold, water, rust, and scratches.
Durability
The garage is something that's meant to last for a long time. And there's little likelihood you'll be renovating it again soon. You must install durable panels that can withstand chemicals, mold, scratches, and small fires.
Inertness
Quickliner PVC wall panels do not react with most bases, paraffin-hydrocarbon solutions, acids, and salts. This advantage adds to their durability and protective nature for the wall beneath them.
Aestheticism
The garage isn't a prime candidate for aesthetic or decorative material, but people's needs differ.
As a contractor or construction company manager, you'll meet people looking to use their attached garage as an entryway to the main house.
In such cases, the garage will have to be aesthetically pleasing, and installing our Octaform Quickliner PVC wall panels is the way to go.
Quickliner PVC wall panels are available in different colours, patterns, and styles to provide various options to installers. You can customize them to match your other existing installations, such as ceilings.
When you install our insulated PVC wall panels, you don't have to be one of the many people that confess to being embarrassed if they leave their garage door open.
Inexpensiveness
Quickliner wall panels are cheaper than most other wall covering materials. Installers can expect to spend much less to buy and install the wall panels, saving money in the process.
Not Prone to Small Animal Attacks
Our plastic wall panels are not prone to attacks by small animals like rats, mice, and insects. Overstuffed garages can be conducive for such animals, but you don't have to worry about them damaging your panels.
Recyclability and Reusability
Using plastic materials poorly poses a great danger to our planet. You'll want wall panels that you can recycle or reuse for other applications to reduce the number of plastics in landfills.
What Next?
At Structural Panels Inc., we are a reputable PVC garage wall panels supplier for Octaform Systems Inc., the company that makes the highly sought-after Octaform Quickliner PVC wall panels.
Now that you know why our Quickliner PVC wall panels are great for your garage, you can call us to learn more or to get an estimate for your upcoming garage wall cladding project.
References: