All areas where food materials are handled must maintain high levels of hygiene and antimicrobial protection. Adhering to these standards ensures your food enterprise maintains optimum consumer health levels, not to mention staying on the safe side of the law.
While most buildings have concrete walls, these aren't the best because concrete is porous and harbours microorganisms. The best option is to use food processing panels that offer much more than hygiene and antimicrobial protection.
When you decide to install food-grade wall panels, you may be lost for choice because there are plenty of options on the market, and not all of them are safe to use. So, what are food-compliant wall panels, and which are safe to use on your premises?
What Are Food Processing Panels?
Food processing panels or wall panels for the food industry are specialized, low-maintenance protection blocks installed on walls, ceilings, or standalone partition walls to ensure high levels of hygienic conditions in food facilities.
Most food handling enterprises install food-grade panels on existing walls and columns, which is called retrofitting. Others use them as standalone partition walls separating crucial food handling areas, such as the kitchen and packaging area.
Some food handlers also install food-safe panels on the ceiling, but the first two uses are the most common. Since most facilities use the panels on the walls, you'll often encounter the name "wall panels" more than "ceiling panels."
Besides retrofitting the panels on already existing buildings, you can also install them on new structures at the time of construction.
What Do Food Processing Panels Do?
The main purpose of food-safe wall panels is to maintain high levels of hygiene within the food processing plant. You don't want to risk contaminating your food products and ruining consumer health, potentially putting your customers' lives at risk.
Wall panels for food processing plants help you maintain cleanliness on your premises. Firstly, they are nonporous, meaning they won't allow water to pass through. This eliminates the chances of microorganisms growing between them and the original wall.
Secondly, the panels are themselves easy to clean, making it easy to clear away any materials like oils, grease, and food residue that may fall on them.
Removing the residue destroys what would have been the breeding ground for bacteria, mildew, mould, and other harmful microorganisms that could cause food contamination.
Food processing plant panels protect your premises against dust and dampness, ensuring a healthy working environment for your employees.
Furthermore, the panels protect your existing walls from wear and tear caused by the frequent impacts on the wall. For example, objects in employees' hands can bump into corners and wall surfaces, causing dents and scratches.
Combined with the ability to shield walls from wear and tear, the beauty of food industry wall panels adds aestheticism to your premises. The panels come in various colours and designs to enhance their aesthetics.
Also noteworthy is that some food-grade panels are fire-resistant, a crucial aspect in food facilities where chemicals, gas, and fires are often present.
Food Processing Panels that Are Safe to Use in Food Enterprises
Commercial washable wall panels are usually classified based on the type of material used to make them.
Below are the four types of food-compliant panels you can use safely in your food facility.
1. PVC Food Processing Panels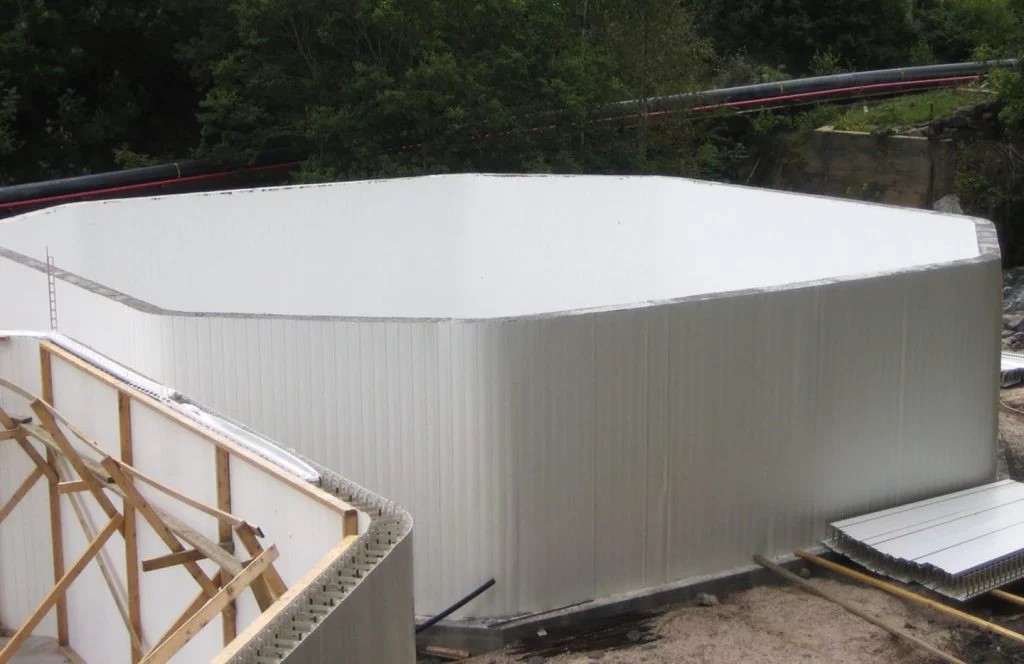 Polyvinyl chloride or PVC panels are ideal for ceilings, concrete columns, and walls to act as a barrier between the surface and harsh chemicals and harmful elements like dust and moisture.
PVC panels are easy-to-clean, highly durable, easy to install, hygienic, and food-grade safe. The panels fulfill the sanitation standards of the Canadian Food Inspection Agency (CFIA) and are approved by the US Food and Drug Administration (FDA).
Our QuicklinerTM plastic PVC panels have all the above features. They are also unreactive with most mineral acids, salts, bases, and paraffin-hydrocarbon solutions.
If your food facility faces fire risks, our Quickliner food-grade PVC wall panels are the best for you because they are Class-A fire-rated.
The wide, extruded PVC panels with a glossy finish have interlocking tongue-and-groove joints along the edges to provide a stable structure that won't allow materials to pass through.
The PVC plastic food-grade panels are available in white and black. They are 18″ wide x ⅜" thick. The lengths vary between 8 and 20 feet, with increments of 2 feet up to 8 feet. We also make panels with custom lengths to best fit your project.
Our Quickliner insulated PVC wall panels are suitable for food facilities in lines such as aquaculture, agriculture, medical cannabis, and biogas.
2. Expanded Polystyrene & Steel Insulated Wall Panels
Food processing facilities require proper insulation to maintain specific humidity levels and temperatures for optimum food safety.
Insulated food-grade panels allow you to maintain agreeable humidity and temperature levels throughout all the stations or locations your food products will pass.
At Structural Panels, we have Isowall® panels that are specifically designed to provide optimum insulation in your food plant. The panels are energy-efficient, affordable, CFIA-approved, easy to install, durable, and highly protective.
Our easy-to-clean and maintain Isowall panels will serve your thermal needs well, thanks to their construction. The panels are made with expanded polystyrene (EPS) foam core that is suitable for heat containment and insulation.
Laminated steel sheets encase the 2-10" foam core on either side to complete the panel. Isowall panel lengths range between 5 to 40 feet.
The Isowall steel faces come in white and various custom colours to best match your aesthetic preferences.
You can directly connect our fire-rated RockwallTM panels to the Isowall panels if you need both cold and hot rooms.
Our Isowall insulated wall panels are ideal for large commercial buildings, wall partitions, small coolers, ceilings, soffits, and demising walls.
You can install the panels in abattoirs, coolers and freezers, farms, hospitals, chemical storage locations, breweries and wineries, laboratories, and medical marijuana facilities.
3. Mineral Fiber & Laminated Steel Fire-Rated Wall Panels
Fire safety is important in food facilities to protect products from heat damage in the event of a fire. To this end, you require fire-rated food processing panels that can resist fire for at least a couple of hours.
Our Rockwall fire-rated food-grade wall panels are made with Conrock, a special Rockwool mineral fiber core. The core is then permanently sandwiched between two laminated steel sheets.
The panels are available in white and custom colours. Rockwall panel lengths range between 5 and 30 feet.
The Rockwall panels are sustainable and environment-friendly because the mineral fiber core is made from recycled slag and natural basalt rock.
The panels have a fire-resistance duration of 1-3 hours, based on their thickness. Panels with a core thickness of 4 inches manage an hour of fire resistance, while those with 5- and 6-inch thicknesses manage two and three hours, respectively.
Rockwall panels are energy-efficient, easy to clean and maintain, durable, hygienic, moisture-resistant, CFIA-accepted, sustainable, and unreactive with most paraffin-hydrocarbon solutions, acids, salts, and bases.
Our Rockwall food-compliant wall panels are ideal where you need both thermal control and fire resistance. You can install them in medical marijuana facilities, chemical storage locations, abattoirs, freezers and coolers, farms, hospitals, wineries, breweries, and laboratories.
4. Fiberglass Reinforced Panels (FRP)
Our fiberglass reinforced panels for food industry applications are available in white and custom colours. The lengths vary between 8 and 12 feet with increments of two feet. Each FRP wall panel is 0.09 inches thick.
The CFIA-accepted FRP panels are easy to install on walls and ceilings in unlimited interior and limited exterior applications.
You can reach out to us to get an estimate for your upcoming food processing panel projects in food-related facilities such as agriculture and farming, food and beverage processing and storage, and many more.