Food grade PVC, also known as unplasticized PVC (uPVC/PVC-U) or rigid PVC, is safe for a hydroponics or aquaponics system because it does not have phthalates or bisphenol-A (BPA), two chemicals known to cause health problems in humans.
Plasticizers are added to regular PVC pipes and panels to reduce their rigidity and make them softer, but they pose threats to human and plant life when they leach into the environment through chemical reactions.
When looking for polyvinyl chloride or PVC wall panels for grow room facilities, you must ensure they are certified as food-safe PVC, meaning they are ideal for use in growing food products without harming the plants or the people who consume them.
What Makes Food Grade PVC Safe for Hydroponics?
The characteristics of the PVC wall panels you buy for grow room facilities with hydroponic pipe systems will vary from manufacturer to manufacturer.
Our Octaform Quickliner PVC wall panels are ideal for installation in grow rooms and hydroponic systems because of the following characteristics and features:
Chemical Resistance
Our Quickliner plastic wall panels are unreactive with most salts, mineral acids, hydrocarbon solutions, and bases.
When in contact with the substrate, the wall paneling won't react with any of its nutrients, meaning no chemicals from the panels will leach into the substrate.
Versatility
Octaform Quickliner wall panels aren't just for walls. You can use them as wall panels, ceiling panels, and even partition wall panels to separate different areas of the indoor grow room.
No matter the application, the panels will always be food safe.
Fire Rating
Fires aren't entirely avoidable. While grow rooms are at low risk of fires, using fire-rated grow room wall panels is a good idea.
Octaform Quickliner PVC panels have a Class-A fire rating and are thus safe for use in grow rooms or hydroponic systems where fire risks exist.
Hygienic
Like all other food processing or handling facilities, hydroponic setups need to maintain high levels of hygiene throughout the year.
The Quickliner plastic panels meet the stringent sanitation standards required of materials for food facilities by the Food and Drug Administration (FDA) and the Canadian Food Inspection Agency (CFIA).
You'll only need a soft cloth dipped in mild soapy water to clean the panels and remove dust, grease, and other dirt particles.
Thermal Insulation
Temperature control in a cannabis grow room is a crucial aspect. You'll need panels with reflectivity to control the amount of heat within the facility.
White PVC panels are ideal for their reflective abilities to prevent the unnecessary accumulation of heat in the facility, which could cause problems with chemical activations.
Mold and Mildew Resistance
The interlocking installation system of PVC panels means that the surface remains watertight and won't allow moisture to pass through, which would cause the growth of mold and mildew between the surfaces.
The surface of the panels is also smooth and glossy to ensure mold and mildew are unable to attach to them.
Multiplicity of Configurations
Besides the versatility in application for room walls and ceilings, Quickliner can achieve multiple configurations in size, shape, and thickness, depending on the specific needs of your system.
Availability and Inexpensiveness
PVC wall panels for grow rooms are easy to find from different manufacturers. Online purchases and shipping arrangements are available, so you don't have to travel far to find them.
Additionally, unplasticized PVC panels are cheaper than other types (which aren't certified for food safety).
Installation Ease
It's easy to install PVC panels on walls or ceilings using the Snap-Trim™ system of interlocking joints, whether newly installed or retrofitted in an existing structure.
The paneling can be installed over different surfaces like drywall, wood, concrete, and plaster, depending on the underlying surface in your grow room.
Suitability to Different Crops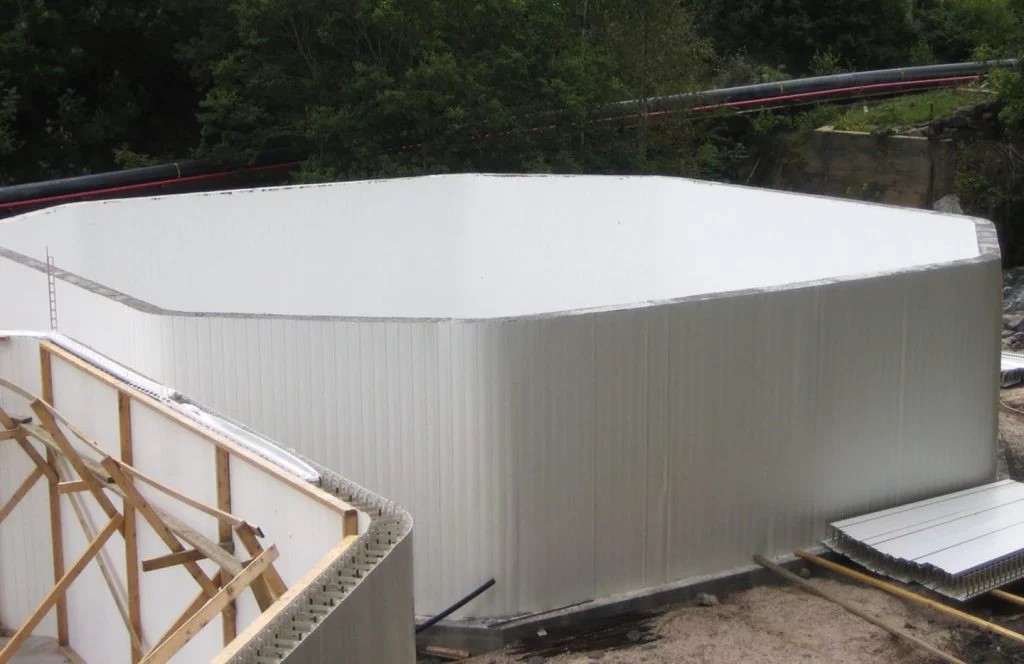 Whether you want to grow medical cannabis plants or fruits and vegetables in your hydroponic setup, our Quickliner insulated plastic panels offer flexibility.
You can use the panels to water fruits like strawberries, vegetables, and hydroponic cannabis, regardless of the fragility of the plants.
The panels are also ideal for aquaponics, where aquatic animals like fish are reared alongside soil-free plants, with the waste from the animals supplying nutrients to the plants.
Durability
You'll want panels that can last long once installed in your hydroponic setup. Polyvinyl chloride panels are durable because they are non-porous, rust-free, corrosion-free, and chemically inert.
Safe Practices When Using PVC Grow Room Wall Panels
Although food-grade PVC wall paneling is safe for a cannabis grow room, some precautions are necessary to reduce their potential for leaching chemicals.
If the panels are in direct contact with the substrate or nutrient solution, ensure they are well protected from direct sunlight to reduce the chances of a breakdown of the PVC by ultraviolet rays.
Where the panels are in direct contact with the substrate, monitor the temperature because high temperatures and hot spots would cause leaching issues. Remember, food-grade PVC isn't considered food-safe because it doesn't leach any chemicals. It does, but only at levels accepted as not detrimental to plants and human beings.
Avoid joining the panels with excessive glue or PVC cement. The chemicals in glue are not food-safe and can leach into the nutrient solution before being absorbed by the plants and the bodies of people who consume the plants.
The good news is that you won't have to use glue when installing our Quickliner PVC wall panels in your grow room because they use a tongue-and-groove mechanism. The panels will fit together along the interlocking edges, ensuring a watertight joint between them.
You can contact us to get an estimate of the cost of the material and number of panels you will require for your hydroponic pipe system or grow room facility. You can even ask for custom-sized panels, depending on the size of the room walls where you will install them.
References: